That's Mod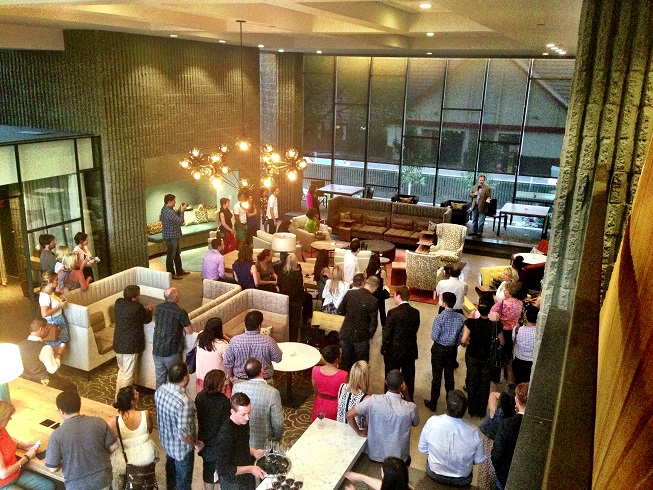 A boutique co-working space would probably be the best way for me to describe "That's Mod".  Their moto is "Work the Way You Like to Live", makes me think that I aspire to live such a lifestyle!  Here, my sense was that the focus is not necessarily about fostering a sense of community but rather providing a modern working space and excellent customer service – which they do exceedingly well.  When you walk in, it resembles more of a trendy hotel lounge than an office space. It's a beautiful, convenient, and productive space but I didn't get the sense that it fostered any sense of community or networking – a requirement of a true co-working space.  To be fair, "That's Mod" doesn't actually advertise itself as co-work – their website promotes the working space, the event and meeting spaces (all of which are for rent by both members and non-members with a discounts offered to members), as well as the food, coffee and wine bars available.  It seems to defy classification. Regardless, I felt it important to include in my co-working round up.
Space
Impressive. There are floor to ceiling windows throughout, vaulted ceiling, two stories, and over 6,000 square feet of chic, modern and elegant. No expense was spared for the furnishings and there are many comfortable and configurable areas to work from. Like a hotel – there is a central lobby which includes a dining area, wine bar and patio, there is a lofted second floor – called the mezzanine, which includes social space, a "decompression room", and two private meeting rooms
The space features a gorgeous bar with an assortment of wines and beer and there is an in-house chef that that will prepare and customize a wide variety of items from their menu. Your order will then be brought to you as you work, making you feel like a pampered executive.  The Mod Cafe and wine bar is open to the public and also offers a daily happy hour from 4-7.
There are three conference rooms available all with LED TVs, Apple TV, VOIP conference phones and white boards.  The one on the first floor, called the Cube, is a conference room that accommodates about a dozen or so people – with floor to ceiling windows and glass walls and drapes you can pull around all windows for privacy, the white board in this room is interactive.  The second floor loft has two additional smaller conference rooms with a capacity of four to six individuals.   There is also a more casual meeting space on the second floor called the mezzanine lounge – this also has a tv/Apple TV, drapes for privacy, and a whiteboard but has a more casual seating arrangements – like a living room.
Neighborhood
Located on corner of Central Ave. and Thomas Road in Phoenix, the light rail passes immediately out front – extremely convenient for those that have that as an option.  Despite its central location, I found the area only moderately walk-able- options were somewhat limited and spread out.  For many this would not be a concern as the Mod has its own coffee bar, wine bar and food options available so you don't necessarily need to leave there to get something to eat or drink.
 Cons
In a word – expensive.  That's Mod would not be a good option if you are starting out and on a limited budget. I was not a fan of the pricing structure as there is not option to setup a permanent desk area to work from where you can leave a computer or store files – even for unlimited memberships.  Like all co-working spaces, I took advantage of their one free work day pass and I worked from That's Mod on a Friday in March – it was fairly quiet throughout the day and by 1 pm there were only four people working downstairs and another four in the upstairs loft. Overall, I liked the space and I can't fault it for an insufficient emphasis on community  as it's not what they're about.  You can get a lot of work done there as it is quiet and you are rarely interrupted. However, it lacks the energy I was seeking and is expensive.
Summary
This type of space absolutely has it's niche and I have little doubt it will do well. An awesome space for holding a meeting or an event but at least for me not a long term day-to-day solution.
I knew going into the space that it was designed to provide a high end boutique take on working space, but was surprised at how isolating it felt.  In fairness, Mod does not actually advertise itself as a co-working space but rather as "An Executive Lounge and Shared Work Environment" with "Concierge Services". For better or worse, I included it in my review of Phoenix area co-working offerings as it's really not a space that can be ignored. I would suggest using this space as a meeting and event space to impress potential clients or to rent for a smaller workshop, conference or a meeting retreat and perhaps to use occasionally as a quiet and pampered workplace to treat yourself to if you want to have a latte or a glass of wine and a gourmet sandwich while you work. Personally, I do not see it as long term five days a week solution.