CoHoots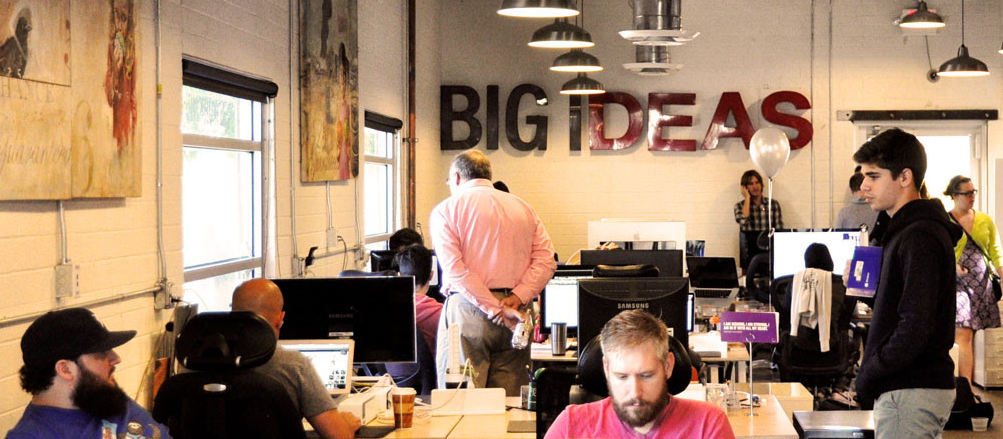 I think of CoHoots as the big name in Phoenix coworking. It's not the size however – it's the community. The management team of CoHoots has made building and maintaining a sense of community at CoHoots a top priority. Networking, community, and collaboration are at the heart of coworking – affordable work space is a plus. Space for a home office can usually be carved out and libraries and coffee shops abound. It's about how a space facilitates dialogue between its members and how it keeps members engaged and connected within the community. Mixer events are fine, but it's the day-to-day interaction that builds a community over time. Two simple examples I've encountered at no other spaces – a private Facebook group that members use as a community bulletin board and a chalkboard community calendar – both are really simple and really effective. At a glance, I felt connected when I viewed the calendar, and the Facebook group allows for ongoing community conversations even when members aren't working from the space.
The Space
The space is around 4,500 square feet including the areas occupied by their two anchor tenants. It's not the smallest coworking spot, but it leans towards the smaller end. Oddly enough, CoHoots turns this into an advantage. The space is laid out such that you cannot help but network as the day progresses. When you enter the space, immediately in the front is a coffee bar that serves a small variety of things to eat. There is also a small couch and a few chairs to allow for informal meetings with clients or between members. As you enter the coworking space, to your left is the reception area and to the right the aforementioned chalkboard event calendar. Lining the windows are the permanent desks. These are shared desks with space provided for a monitor, some personal possessions, and a portion of a file cabinet at the head of the desk. There are between four and six persons at a desk for a total of 36 "nest members" as they are called. More central in the room are two separate long desks that provide drop in space for anywhere between four and six persons, a third mid desk that seats two, and then two circular drop-in desks that provide seats for four each. A total of about of about 18 to 20 drop ins can be accommodated.
The Area
The light rail passes directly out front. For those who can take advantage of public transportation it's a big plus. Aside from the light rail, there isn't much around there. So if you haven't driven, you might want to give some thought to lunch before you leave home. That said, Wednesday is food truck day and there is always something good to be had. The area itself is pleasant, and when I've worked from Cohoots, I've frequently made a point to take a walk over to North 7th St and back.  As mentioned previously, there is an onsite coffee bar, where you  can find something to eat. The menu is limited but the food is good. If you've driven then you'll have a  solid selection of places to eat within a two-mile radius. I give high marks to walkability, but I have never felt inconvenienced in the slightest at this location. It's a nice area – just not a high walkability index.
The Cons
In some respects, Cohoots is a victim of its own success – it's outgrown its space. Plans have been made to add a much needed second location, but, until they've been implemented, the space will most likely remain a bit crowded. The location borders on downtown Phoenix and all it has to offer, but sits too far away to make use of it. There is almost nothing within walking distance. As an NYC transplant, I prize walkability but I understand it's a trade-off. The more convenient the location, the greater the price per square foot the and higher the cost to members.
The Summary
I was a member of Cohoots for four months before writing this review. I'm a big fan. There are three founders, who work tirelessly to make the space a success. The design of the space, the fostering of communication, member events, participation in small business and community events – they understand what's involved and they put in the work to make it happen. The owners of Cohoots seem to really get coworking.
Next up:  Office Pile